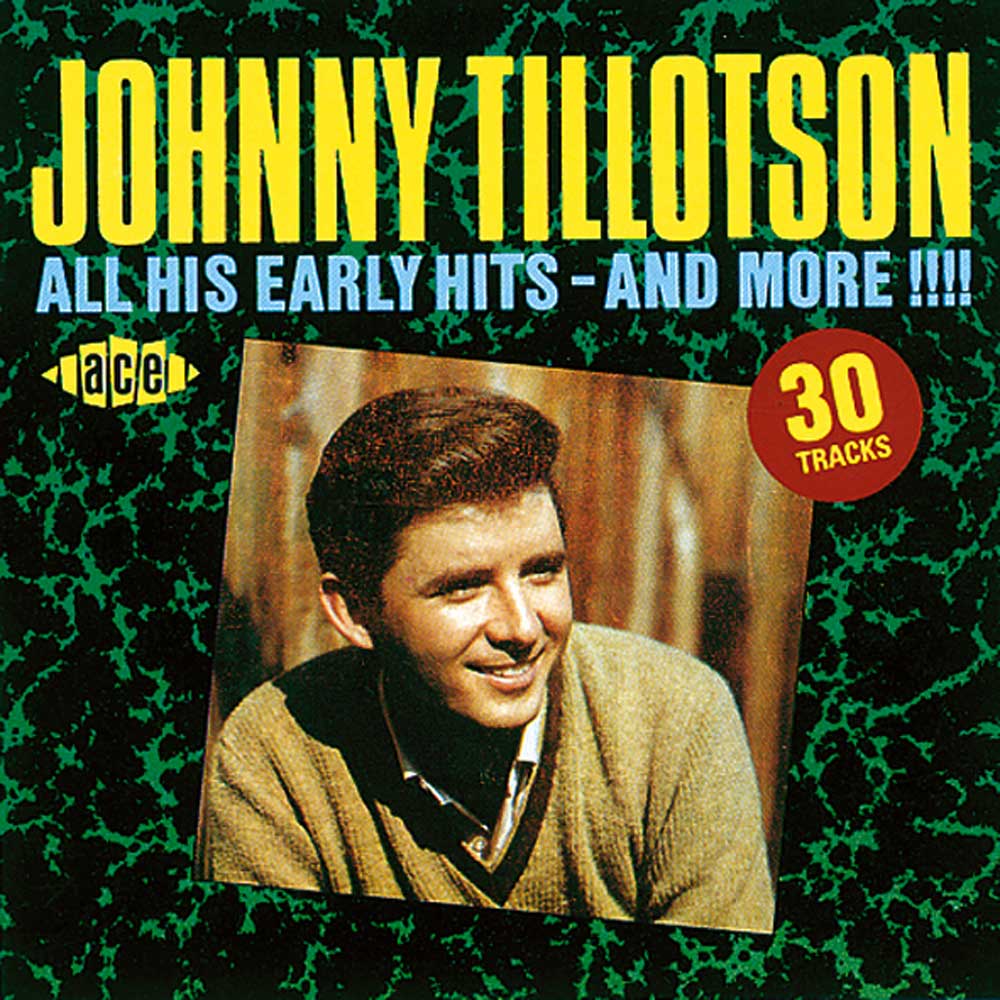 Johnny Tillotson

Background information
Born
April 20, 1939
Jacksonville, Florida, United States
Genres
country, pop

Occupation(s)

singer, songwriter

Years active

1957 - Present
Labels
Cadence, London, Apex, MGM
Website
[4], [5]
In the early 1980s he charted briefly with "Lay Back In The Arms Of Someone" on Reward Records and it was during the 80s that his hits in South East Asia had him appear in Thailand, Singapore and Malaysia, Australia and New Zealand on a regular basis with tours in Japan and Hong Kong. In 1990 he signed with Atlantic records and again charted briefly with "Bim Bam Boom."
In May 1991 his 22-year-old daughter Kelli was killed in a car accident which devastated Johnny as well as his surviving son and family.
After a decade-long absence in 2010, Tillotson released a single "Not Enough" which was a tribute to the Military, Police, Fire and all uniformed personnel of the United States. It reached #1 on the indie country chart and the top 25 on the New Music weekly chart, and was a breakout single on the Music Row chart in Nashville. He continues to write and perform in concert.
Year
Album
US
1959
This Is Johnny Tillotson
—
1960
Johnny Tillotson (EP)
—
1962
It Keeps Right On a-Hurtin'
8
1963
You Can Never Stop Me Loving You
—
1964
Talk Back Trembling Lips
48
The Tillotson Touch
—
She Understands Me
148
1965
That's My Style
—
Johnny Tillotson Sings
—
1966
No Love at All
—
The Christmas Touch
—
Johnny Tillotson Sings Tillotson
—
1967
Here I Am
—
1969
Tears on My Pillow
—
1970
Johnny Tillotson
—
1977
Johnny Tillotson
—
| Year | Album | US |
| --- | --- | --- |
| 1962 | Johnny Tillotson's Best | 120 |
| 1968 | The Best of Johnny Tillotson | — |
| 1972 | The Very Best of Johnny Tillotson | — |
| 1977 | Greatest | — |
| 1984 | Scrapbook | — |
| 1990 | All the Early Hits - and More!!!! | — |
| 2001 | 25 All-Time Greatest Hits | — |
| 2014 | Travelin' On Foreign Grounds | — |
Year
Single
Peak chart positions
Album
US[12]
CB
US R&B
US Country
US AC
CAN
CAN Country
UK[13]
US NMW
1958
"Dreamy Eyes" /
"Well I'm Your Man" (from Words and Music By Johnny Tillotson EP)
63
87
—
—
—
—
—
—
—
—
—
—
—
—
—
—
—
—
Johnny Tillotson's Best
"I'm Never Gonna Kiss You" (with Genevieve)
—
—
—
—
—
—
—
—
—
Non-album track
1959
"True True Happiness"
b/w "Love Is Blind" (Non-album track)
54
49
—
—
—
—
—
—
—
Johnny Tillotson's Best
1960
"Why Do I Love You So"
b/w "Never Let Me Go" (Non-album track)
42
31
—
—
—
—
—
—
—
"Earth Angel" /
"Pledging My Love"*
57
63*
61
73
—
—
—
—
—
—
—
—
—
—
—
—
—
—
"Poetry In Motion"
b/w "Princess Princess"
2
2
27
—
—
—
—
1
—
1961
"Jimmy's Girl"
b/w "(Little Sparrow) His True Love Said Goodbye"
25
24
—
—
—
—
—
43
—
"Without You"
b/w "Cutie Pie"
7
12
—
—
—
—
—
—
—
1962
"Dreamy Eyes" (re-issue)
b/w "Well I'm Your Man" (from Words and Music By Johnny Tillotson EP)
35
46
—
—
—
—
—
—
—
"It Keeps Right On A-Hurtin'"
b/w "She Gave Sweet Love To Me" (Non-album track)
3
5
6
4
—
—
—
31
—
It Keeps Right On A-Hurtin'
"Send Me the Pillow You Dream On" /
17
14
—
11
5
—
—
21
—
"What'll I Do"
106
—
—
—
—
—
—
—
—
"I'm So Lonesome I Could Cry" /
89
94
—
—
—
—
—
—
—
"I Can't Help It (If I'm Still In Love With You)"
24
29
—
—
8
—
—
41
—
1963
"Out Of My Mind"
b/w "Empty Feelin'" (from You Can Never Stop Me Loving You)
24
23
—
—
11
—
—
34
—
Non-album track
"You Can Never Stop Me Loving You"
b/w "Judy, Judy, Judy"
18
18
—
—
4
—
—
—
—
You Can Never Stop Me Loving You
"Talk Back Trembling Lips"
b/w "Another You"
7
7
—
—
6
—
—
—
—
Talk Back Trembling Lips
"Funny How Time Slips Away"
b/w "A Very Good Year For Girls"
50
62
—
—
16
—
—
—
—
It Keeps Right On A-Hurtin'
1964
"I'm a Worried Guy" /
37
38
—
—
—
—
—
—
—
Talk Back Trembling Lips
"Please Don't Go Away"
112
122
—
—
—
—
—
—
—
"I Rise, I Fall"
b/w "I'm Watching My Watch"
37
—
44
125
—
—
—
—
—
—
—
—
—
—
—
—
—
—
The Tillotson Touch
"Worry"
b/w "Sufferin' From A Heartache"
45
45
—
—
5
36
—
—
—
"She Understands Me"
b/w "Tomorrow"
31
29
—
—
4
25
—
—
—
She Understands Me
1965
"Angel"
b/w "Little Boy" (from She Understands Me)
51
53
—
—
—
33
—
—
—
Johnny Tillotson Sings
"Then I'll Count Again"
b/w "One's Yours, One's Mine" (from Johnny Tillotson Sings)
86
67
—
—
—
-
—
—
—
That's My Style
"Heartaches By The Number"
b/w "Your Mem'ry Comes Along"
35
32
—
—
4
14
—
—
—
"Our World"
b/w "(Wait Till You See) My Gidget"
70
54
—
—
—
23
—
—
—
Johnny Tillotson Sings
1966
"Hello Enemy"
b/w "I Never Loved You Anyway" (from Johnny Tillotson Sings)
128
104
—
—
—
—
—
—
—
Non-album track
"Me, Myself and I"
b/w "Country Boy"
—
—
—
—
—
—
—
—
—
That's My Style
"No Love At All"
b/w "What Am I Gonna Do" (from Talk Back Trembling Lips)
—
—
—
—
—
—
—
—
—
No Love At All
"Open Up Your Heart"
b/w "More Than Before"
—
—
—
—
—
—
—
—
—
Non-album tracks
"Christmas Is The Best Of All"
b/w "Christmas Country Style"
—
—
—
—
—
—
—
—
—
The Christmas Touch
1967
"Tommy Jones"
b/w "Strange Things Happen" (from Johnny Tillotson Sings)
—
91
—
—
—
—
—
—
—
Here I Am
"Don't Tell Me It's Raining"
b/w "Takin' It Easy"
—
—
—
—
—
—
—
—
—
"You're The Reason"
b/w "Countin' My Teardrops" (from That's My Style)
—
—
—
48
—
—
24
—
—
The Best Of Johnny Tillotson
1968
"I Can Spot A Cheater"
b/w "It Keeps Right On A-Hurtin'" (from The Best Of Johnny Tillotson)
—
—
—
63
—
—
—
—
—
Non-album tracks
"Why So Lonely"
b/w "I Haven't Begun To Love You Yet"
—
—
—
—
—
—
—
—
—
"Letter To Emily"
b/w "Your Memory Comes Along"
—
—
—
—
—
—
—
—
—
1969
"Tears On My Pillow"
b/w "Remember When"
119
98
—
—
—
94
—
—
—
Tears On My Pillow
"Joy To The World"
b/w "What Am I Living For"
—
—
—
—
—
—
—
—
—
"Raining In My Heart"
b/w "Today I Started Loving You Again"
—
—
—
—
—
—
—
—
—
1970
"Susan"
b/w "Love Waits For Me"
—
—
—
—
—
—
—
—
—
Singles only
"I Don't Believe In If Anymore"
b/w "Kansas City, Kansas"
—
—
—
—
—
—
—
—
—
1971
"Apple Bend"
b/w "Star Spangled Bus" (Non-album track)
127
—
—
—
—
—
—
—
—
Johnny Tillotson (1970)
"Welfare Hero"
b/w "The Flower Kissed The Shoes That Jesus Wore"
—
—
—
—
—
—
—
—
—
"Make Me Believe"
b/w "The Flower Kissed The Shoes That Jesus Wore"
—
—
—
—
—
—
—
—
—
1973
"Your Love's Been A Long Time Comin'"
b/w "Apple Bend"
—
—
—
—
—
—
—
—
—
"If You Wouldn't Be My Lady"
b/w "The Sunshine Of My Life"
—
—
—
—
—
—
77
—
—
Non-album tracks
"I Love How She Needs Me"
b/w "So Much Of My Life"
—
—
—
—
—
—
—
—
—
1974
"Till I Can't Take It Anymore"
b/w "A Sunday Kind Of Woman"
—
—
—
—
—
—
—
—
—
1975
"Big Ole Jean"
b/w "Mississippi Lady"
—
—
—
—
—
—
—
—
—
"Right Here In Your Arms"
b/w "Willow County Request Line"
—
—
—
—
—
—
—
—
—
1976
"Summertime Lovin'"
b/w "It Could Have Been Nashville"
—
—
—
—
—
—
—
—
—
Johnny Tillotson (1977)
1977
"Toy Hearts"
b/w "Just An Ordinary Man"
—
—
—
99
—
—
—
—
—
1979
"Poetry In Motion" (re-issue)
b/w "Princess Princess"
—
—
—
—
—
—
—
67
—
Johnny Tillotson's Best
1984
"Lay Back In the Arms Of Someone"
b/w "What's Another Year"
—
—
—
91
—
—
—
—
—
Non-album tracks
2010
"Not Enough"
—
—
—
—
—
—
—
—
25