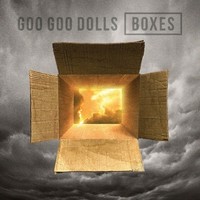 Boxes (Goo Goo Dolls album)
The
lead single
from
Boxes
, "So Alive", was released on April 8, 2016. A second single, "Over And Over", was released to radio on October 12 of the same year, along with an official lyric video.
Professional ratings
Review scores
Source
Rating
AllMusic
[2]
Stephen Thomas Erlewine
of
AllMusic
rated the album three out of five stars and states: "(The band) unapologetically embraces their middle age, excising any remaining hints of the raucous rock band of yore and splitting their time between power ballads and insistent anthems."
[2]
No.
Title
Writer(s)
Length
1.
"Over and Over"
John Rzeznik, Robby Takac, Craig MacIntyre, Drew Pearson
4:07
2.
"Souls in the Machine"
Rzeznik, Pearson
3:49
3.
"Flood" (featuring Sydney Sierota)
Rzeznik, Derek Fuhrmann, Gregg Wattenberg
4:12
4.
"The Pin"
Rzeznik, Pearson
4:12
5.
"Boxes"
Rzeznik, Brad Fernquist
4:22
6.
"Free of Me"
Takac
3:35
7.
"Reverse"
Rzeznik, Jarrad Kritzstein, Pearson
4:13
8.
"Lucky One"
Rzeznik, Fuhrmann, Wattenberg
3:05
9.
"So Alive"
Rzeznik, Fuhrmann, Wattenberg
3:15
10.
"Prayer in My Pocket"
Takac
3:34
11.
"Long Way Home"
Rzeznik, Wattenberg, Jordan Miller
3:34
Total length:
41:59
Japanese bonus track
No.
Title
Length
12.
"Walk Away"
3:47
Musicians
Yazz Alali – background vocals
John Alicastro – background vocals
Gretchen Fisher – strings, violin
Kiersten Fisher – viola
Derek A.E. Fuhrmann – guitar, piano, background vocals
Rachel Kanner – background vocals
Kim Kat – background vocals
Michael Lauri – background vocals
Craig MacIntyre – drums, percussion
Jordan Miller – background vocals
Mark Neisser – background vocals
Gunnar Olsen – drums, guitar
Drew Pearson – keyboards
Shawn Pelton – drums
John Rzeznik – guitar, vocals
Sydney Sierota - Vocals (Track 3)
Robby Takac – bass, guitar, vocals
Kit Walters – background vocals
Gregg Wattenberg – guitar, background vocals
Katie Weissman – cello

Technical

Mike Adubato – engineer, programming
Jeffery David – vocal production
Emerson Day – assistant engineer
Richie English – string arrangements
Nicolas Essig – assistant engineer
Kevin Estrada – engineer
Derek A.E. Fuhrmann – production, programming
Justin Rose – engineer, production
Drew Pearson – engineer, production
Robby Takac – programming
Gregg Wattenberg – production, programming
Tom Coyne - mastering engineer
| Region | Date | Format(s) | Label |
| --- | --- | --- | --- |
| United States | May 6, 2016 | | Warner Bros. |