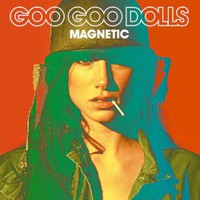 Magnetic (album)
The recording process took place during the latter half of 2012 and into early 2013. Rzeznik thought of the album title during a phone conversation with his manager, who told Rzeznik to "think of a title for the record. Try to use one word." Magnetic was the first word that came to Rzeznik's mind.
[7]
This is the last album to feature drummer
Mike Malinin
who left the band in December 2013.
During an interview with UpVenue on February 16, 2011, Rzeznik confirmed that he had been writing new material for a new album during the
Something for the Rest of Us Tour
. "I've actually been experimenting, in this last week, while we've been out on this tour, just writing lyrics and then figuring out the melodic structures," said Rzeznik, "We can't wait another four years to put another album out; that's just a ridiculous waste of time."
[8]
On August 9, 2012, the band announced that it had started recording its tenth studio album.
[9]
In a column for Japanese Rock magazine
InRock
, Robby Takac revealed some details about recording sessions for the new album. The new album is scheduled for an early 2013 release on the Warner Brothers record label. The band will use multiple producers like it did on
Something for the Rest of Us
. In August and September it had various recording sessions with
John Shanks
at
Henson Recording Studios
in Hollywood, CA and in October 2012 with
Gregg Wattenberg
at Quad Studios in New York City. More recording sessions are planned with
Greg Wells
in Los Angeles in November 2012.
[10]
On January 18, 2013, the band released the first single from
Magnetic
entitled "
Rebel Beat
".
[11]
Later on February 15, 2013, the Goo Goo Dolls tweeted an exclusive first look at the Magnetic album cover.
[12]
On April 3, 2013, the band announced that the release date would be pushed back from May 7 to June 11. More than a month later on July 19, 2013, the Goo Goo Dolls announced its second single from
Magnetic
will be "
Come to Me
".
[13]
The album was released in high resolution (24bit) on
HDtracks.com
in 2013. The high res version has a greater dynamic range than the CD release.
[14]
In a concert at
Red Rocks Amphitheatre
July 15, 2014, Rzeznik announced "Caught in the Storm" would be the third single released from
Magnetic
.
[15]
Magnetic
debuted at number 8 on the
Billboard 200
chart, selling 29,000 copies in its first week.
[16]
The album has sold 98,000 copies in the US as of February 2015.
[17]
Magnetic
received mixed reviews from
music critics
upon its release. At
Metacritic
, which assigns a
normalized
rating out of 100 to reviews from mainstream critics, the album has received an
average
score of 57, based on 7 reviews, indicating "mixed or average" feedback.
[18]
| No. | Title | Writer(s) | Length |
| --- | --- | --- | --- |
| 1. | "Rebel Beat" | John Rzeznik, Gregg Wattenberg | 3:34 |
| 2. | "When the World Breaks Your Heart" | Rzeznik, Wattenberg, J. T. Harding | 3:33 |
| 3. | "Slow It Down" | Rzeznik, Wattenberg | 3:11 |
| 4. | "Caught in the Storm" | Rzeznik, John Shanks | 3:57 |
| 5. | "Come to Me" | Rzeznik, Wattenberg | 3:45 |
| 6. | "Bringing On the Light" | Robby Takac | 3:16 |
| 7. | "More of You" | Rzeznik, Shanks | 3:26 |
| 8. | "Bulletproofangel" | Rzeznik, Andy Stochansky | 3:23 |
| 9. | "Last Hot Night" | Rzeznik, Todd Clark | 3:37 |
| 10. | "Happiest of Days" | Takac | 3:31 |
| 11. | "Keep the Car Running" | Rzeznik, Shanks | 4:08 |